As the global business landscape continues to evolve, the job search process is rapidly being transformed by Artificial Intelligence (AI) technologies. Executives looking for new opportunities must now consider AI's significant impact on their job search strategies. Executives can maximize their chances of securing the ideal position by understanding how AI operates in the job market and harnessing its potential. This article will explore the various ways AI can be leveraged in your job search while considering diverse perspectives on this rapidly evolving technology.
Optimizing Your Professional Brand with AI
AI-driven platforms have been developed to help executives optimize their professional brands. By analyzing a candidate's resume, LinkedIn profile, and other digital assets, these platforms provide data-driven insights to enhance personal branding. For instance, AI can identify overused buzzwords, recommend the best keywords for specific industries, and even suggest an optimal content structure. This enables executives to tailor their digital presence to attract the attention of recruiters and hiring managers, improving their chances of being shortlisted for a position.
AI-Powered Job Search Platforms
There are numerous AI-powered job search platforms that can streamline the process of finding and applying for executive positions. These platforms leverage advanced algorithms to match candidates with suitable job opportunities based on their skills, experience, and preferences. Executives can benefit from these platforms by saving time and effort, while also ensuring they are applying for roles that align with their career goals.
Preparing for AI-Driven Assessments
As AI continues to make its way into the recruitment process, executives may find themselves participating in AI-driven assessments, such as video interviews analyzed by algorithms. These technologies evaluate candidates based on factors such as verbal and non-verbal cues, facial expressions, and speech patterns. By becoming familiar with these assessment tools, executives can better prepare themselves for the evaluation process and understand the criteria on which they are being judged.
Networking in the Digital Age
Moreover, AI is also transforming the way executives network with platforms like Esferas.io utilizing machine learning algorithms to identify potential connections based on shared interests, industries, and career goals. Esferas.io, a social network designed specifically for professionals, leverages AI to suggest relevant connections and curate tailored content, thus enabling users to engage in meaningful conversations and stay informed about industry trends. By embracing AI-powered networking platforms such as Esferas.io, executives can extend their reach, build valuable relationships with like-minded professionals, and stay updated on the latest developments in their field.
Seizing Opportunities: Navigating the AI-Driven Job Market
AI presents a wealth of opportunities for executives seeking to advance their careers. By leveraging AI in the job search process, candidates can optimize their professional brand, find the right opportunities, prepare for assessments, and expand their networks. However, it is essential to remain mindful of the ethical considerations surrounding AI in the recruitment process. By balancing the potential benefits with a commitment to ethical practices, executives can ensure they are harnessing the power of AI to secure their next career move.
Leveraging AI to Stand Out In An Executive Job Search
For an in-depth discussion on leveraging AI in your executive job search and practical tips to stand out in the competitive job market, check out our latest episode of the Executive Career Upgrades podcast. Click the graphic below to watch.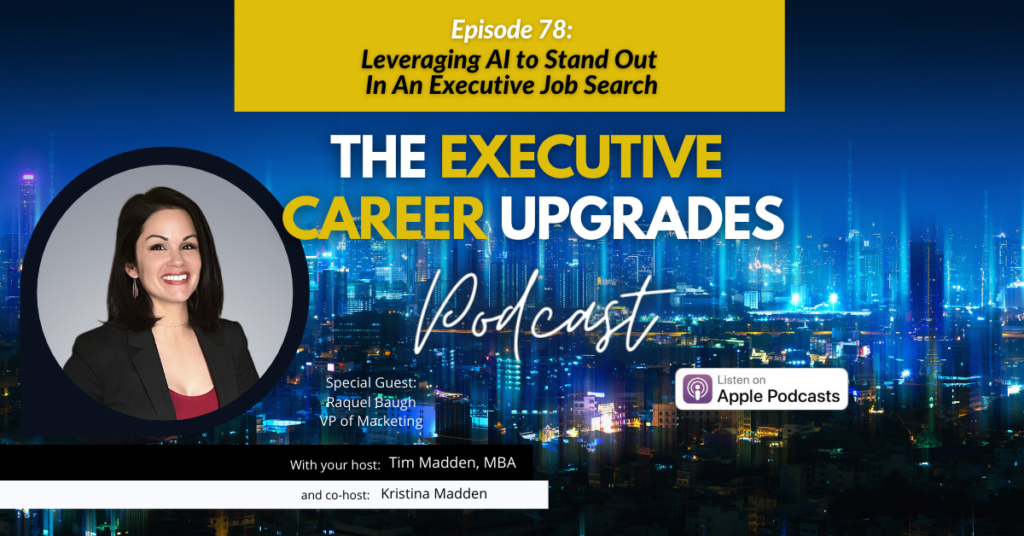 Empower Your Job Search: Expert Support Awaits
If you're prepared to elevate your job search and achieve unprecedented success, it's time to enlist expert guidance. Our comprehensive program equips you with the necessary tools and resources to streamline your efforts and significantly impact your career. Don't delay — schedule your FREE consultation now and embark on the path to professional accomplishment.