The Value of Executive Coaching in Job Searches
In today's competitive job market, savvy executives are increasingly turning to executive coaches for assistance. Consequently, this article explores the reasons for engaging an executive coach in your job search. Not only do these professionals offer valuable guidance, but they also provide a range of services tailored to meet the needs of top-level executives.
Personal Branding: Crafting a Unique Executive Identity
First and foremost, an executive coach assists in identifying your strengths and weaknesses. In doing so, they help you craft a compelling personal brand. This is essential in differentiating yourself from other applicants and securing your desired role.
Expert Assistance: Targeted Resumes and Cover Letters
Coaches offer expert advice on crafting targeted resumes. With their assistance, these documents are transformed into powerful marketing tools. As a result, your chances of landing interviews are significantly increased.
Interview Mastery: Perfecting Your Performance
In addition to resume preparation, an executive coach will also hone your interview skills. You can expect improved performance in real-life situations through mock interviews and constructive feedback. Consequently, your confidence in articulating your value proposition will be enhanced.
Expanding Opportunities: Accessing the Hidden Job Market
Furthermore, executive coaches have a wealth of experience in navigating the job market. This expertise is invaluable when it comes to identifying suitable opportunities. By leveraging their networks and resources, coaches help you tap into the hidden job market, expanding your options.
Emotional Support: Sustaining Motivation and Focus
Of course, the job search process can be emotionally draining. An executive coach provides much-needed emotional support, enabling you to maintain focus and momentum. This often overlooked aspect is crucial in sustaining motivation and ensuring success.
Unlocking Potential: Overcoming Limiting Beliefs
Notably, many professionals benefit from their coach's objective perspective. Coaches encourage you to consider new possibilities, breaking away from limiting beliefs. As a result, your potential for growth and development is amplified.
Addressing Hesitations: Evaluating the Return on Investment
Despite the numerous advantages, some executives might be hesitant to engage an executive coach. One reason could be financial investment. However, it is important to weigh the potential return on investment. The benefits of a successful job search, such as increased job satisfaction, professional growth, and a higher salary, often far outweigh the initial cost.
Embracing Executive Coaching for Career Success
In conclusion, engaging an executive coach in your job search is a strategic decision that can yield significant dividends. From personal branding to emotional support, these professionals provide a comprehensive approach to ensure your success in the competitive job market. It is, therefore, no surprise that many executives have turned to executive coaching as a crucial tool in their career development.
To delve deeper into the topic of executive coaching and its transformative impact, we invite you to tune in to Episode 81 of the Executive Career Upgrades Podcast, titled "Maximizing Your Potential: The Benefits of Executive Coaching." In this insightful episode, we discuss the process, benefits, and essential qualities to look for in an executive coach, equipping you with the knowledge to make informed decisions and elevate your career trajectory. Click the graphic below to listen.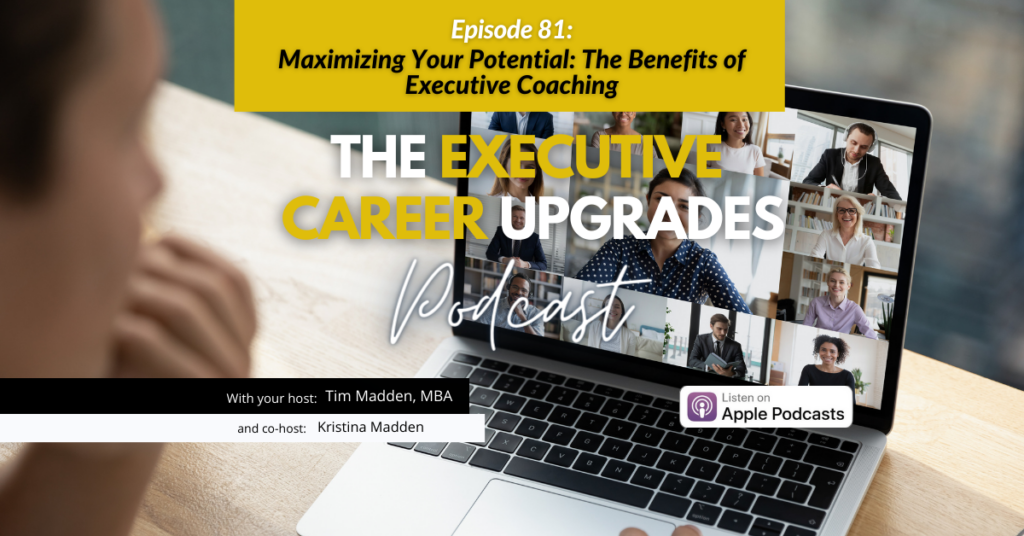 If you're eager to seize control of your job search and ascend to new professional heights, it's time to enlist expert guidance. Our program equips you with the tools and resources necessary to streamline your efforts and create a lasting impact on your career. Don't hesitate. Book your call today and embark on the path to unparalleled career achievements.