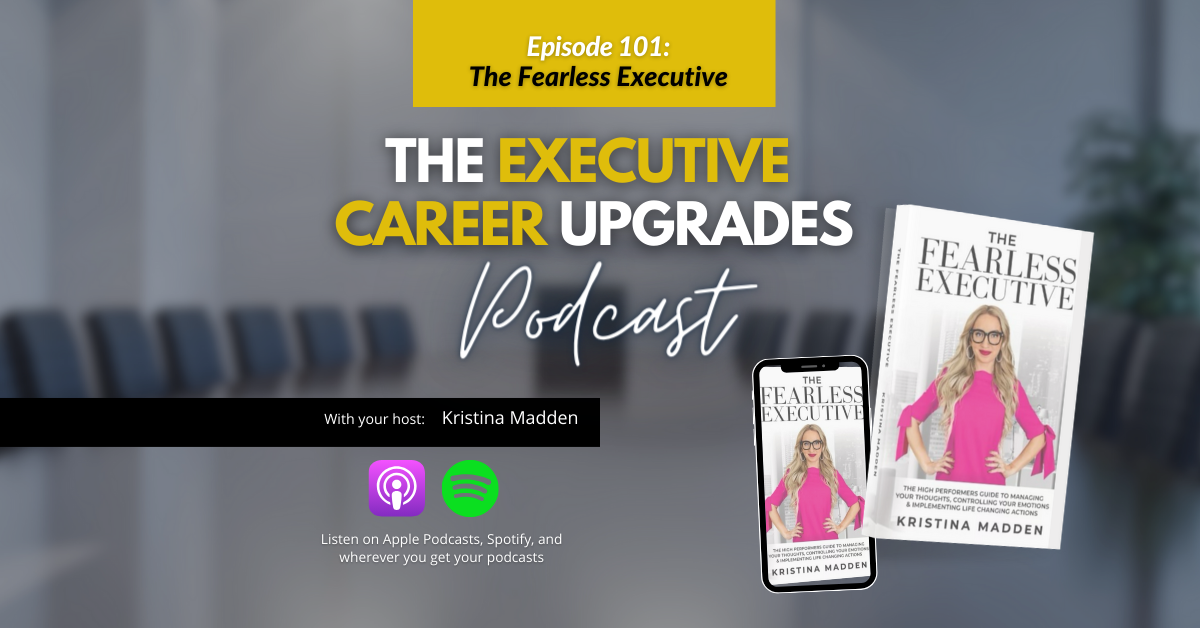 Missed our exhilarating Episode 101 of ECU's Podcast, "The Fearless Executive," featuring Kristina Madden, Co-founder and Chief People Officer at Executive Career Upgrades? No worries! The replay is now available here and on all your favorite podcast platforms, including Apple Podcasts, Spotify, and wherever you tune in.
In this special episode, Kristina Madden takes center stage as she focuses on the heart of her newly released book, "The Fearless Executive."
Her insights and strategies are nothing short of potent, empowering your professional journey with unwavering confidence.
Kristina's impact on high achievers is profound, and in this replay, you'll gain access to the transformative coaching and business success she's known for. Discover a roadmap to conquer self-doubt and banish negative thought processes, a journey inspired by Kristina's own triumphs. Unveiling techniques to harness fear as a catalyst for success, Kristina offers practical activities, enlightening case studies, and inspiring anecdotes that will revolutionize your professional path.
Make your career aspirations a reality by tuning in to the replay of this enlightening episode. Kristina will guide you through a transformative experience, showing you how to turn fear into a powerful force for your success.
Don't miss out on this episode filled with wisdom, stories, and actionable strategies that can reshape your professional future. Whether you're an executive seeking to thrive or simply looking for inspiration, this replay is packed with valuable insights that you won't want to miss.
Join us for the replay of Episode 101, "The Fearless Executive," and unlock the doors to a fearless and thriving executive career. Success is just a click away!
And if you're in the midst of an executive job search, ECU is here to help. Visit us at https://execupgrades.com/podcast to learn more about how we can assist you in achieving the career and financial success you deserve in today's competitive marketplace.