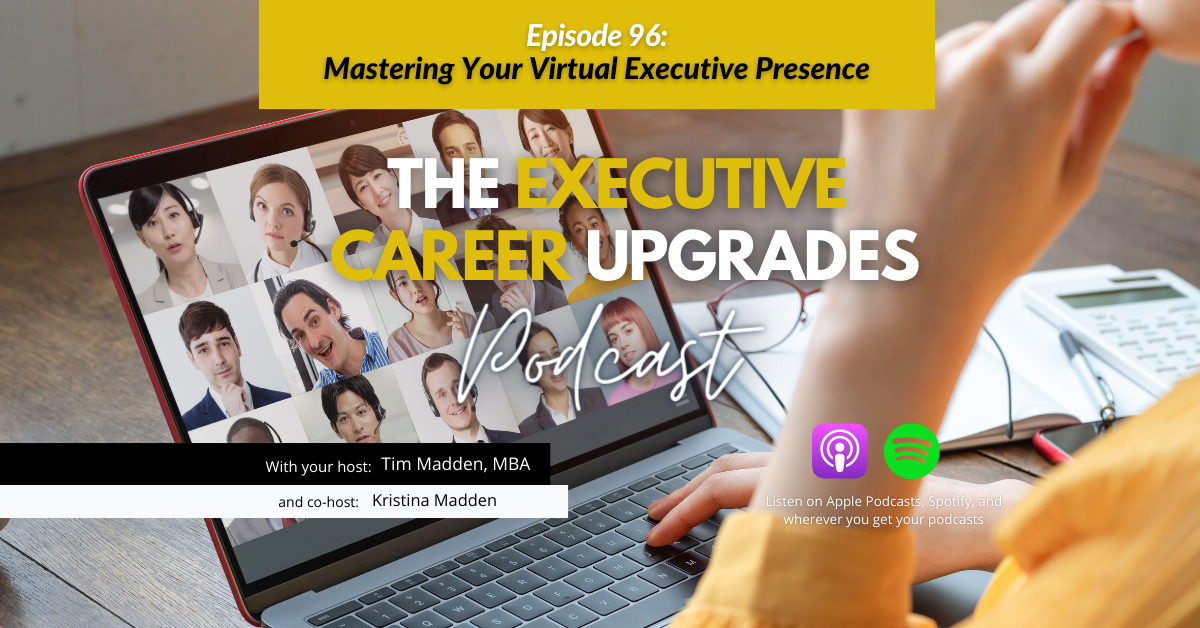 Did you miss the live episode of "Mastering Your Virtual Executive Presence" on Episode 96 of the Executive Career Upgrades Podcast? No worries! The replay is now available for your career-enhancing convenience.
Hosted by Tim and Kristina Madden, this episode is your ticket to conquering the challenges of virtual work with the finesse of a true executive leader.
In this replay, you'll gain exclusive access to strategies and insights tailored for ambitious executives like you who are navigating the ever-evolving landscape of virtual career growth. Tim and Kristina will be your compass through uncharted virtual territories, providing expert guidance on how to wield your executive presence seamlessly in the digital realm. Learn to foster connections, influence peers and superiors, and leave a lasting impact on virtual platforms.
Discover the art of optimizing your virtual communication style, setting the stage with an executive-worthy backdrop, and excelling in virtual networking. From harnessing the power of video interviews to navigating remote team leadership, you'll find the tools you need to thrive in the digital age.
Seize this opportunity to draw from the vast expertise of Tim and Kristina, seasoned professionals in executive career transitions. Their candid experiences, practical advice, and proven techniques will illuminate your path toward mastering virtual executive presence.
Ready to unlock a world of executive opportunities? Catch the replay of Episode 96: "Mastering Your Virtual Executive Presence" and take the first step towards sculpting an exceptional virtual career journey.
Join us now to embrace the digital frontier with poise, confidence, and an unwavering executive mindset. Your virtual executive presence matters, and this episode is your definitive guide to unlocking its true potential!