Have you ever ended an interview with the interviewer telling you they'd "get back to you"?
… And, then, waited for days unsure of how to get back on their radar for a follow-up?
Taking control over the next steps during the interview process could mean the difference between landing your dream job or getting ghosted.
To learn EXACTLY what you need to do to take control over the next steps during an interview, check out our latest Podcast "How to Control the Next Steps During An Interview."
Highlights include:
✅ How you can proactively secure that next follow-up phone call or meeting
✅ Ways you can follow up without being annoying
✅ And, set the tone of your leadership to accelerate your career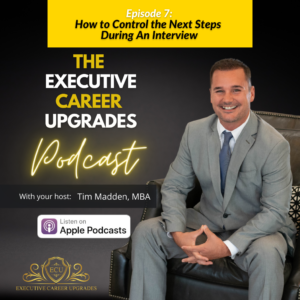 Looking forward,
Tim Madden, MBA | Executive Career Upgrades
P.S. At any moment, your DREAM JOB could find you through contacts you've had for years but never fully realized how powerful they were/are.
So, if you want to be ready and prepared to showcase your best self (and BELIEVE you are worth the job and salary you deserve), I highly encourage you to schedule a complimentary call with our executive career coaching experts … Our proven blueprint for career acceleration success will ensure that your job search goes from months to weeks (even days).
Here's a link to book your complimentary career breakthrough session: https://go.oncehub.com/CareerBreakthroughSession