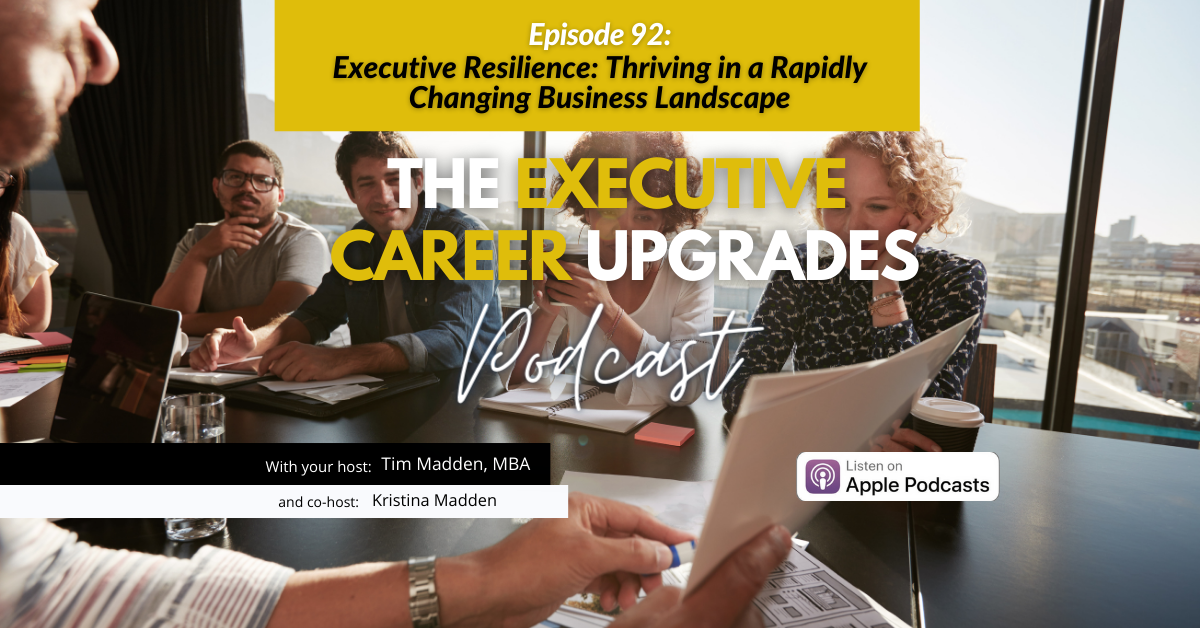 The replay of our highly anticipated podcast episode is now available for you to tune into! Executive Career Upgrades Podcast proudly presents Episode 92: "Executive Resilience: Thriving in a Rapidly Changing Business Landscape."
In this insightful episode, we focus on the art of thriving amidst uncertainty throughout your professional career journey. Join our hosts, Tim and Kristina Madden, for a powerful discussion on cultivating executive resilience—a trait essential for facing challenges head-on and emerging stronger than ever before.
As the world of business continues to evolve at a rapid pace, it's crucial to equip yourself with the right tools and mindset to navigate the complexities of executive leadership. Tim and Kristina will share invaluable strategies and practical insights that empower you to harness your inner strength and adaptability, enabling you to embrace change with confidence and poise.
If you missed the live stream, fret not! The replay of Episode 92: "Executive Resilience: Thriving in a Rapidly Changing Business Landscape," is now available for you to listen to at your convenience.
Gain transformative insights that will elevate your executive career, helping you rise above the competition and seize new opportunities with fearless ambition and unwavering discipline.
Don't miss out on this incredible opportunity to enhance your executive skills and conquer the challenges that come your way. Tune in to the replay now, and let Executive Career Upgrades Podcast be your guiding light in the journey toward becoming a resilient and successful executive leader.
Don't let anything hold you back from reaching your executive career goals. Take the first step towards success by scheduling a complimentary career breakthrough session with one of our Executive Career Advisors today at: https://execupgrades.com/podcast/.