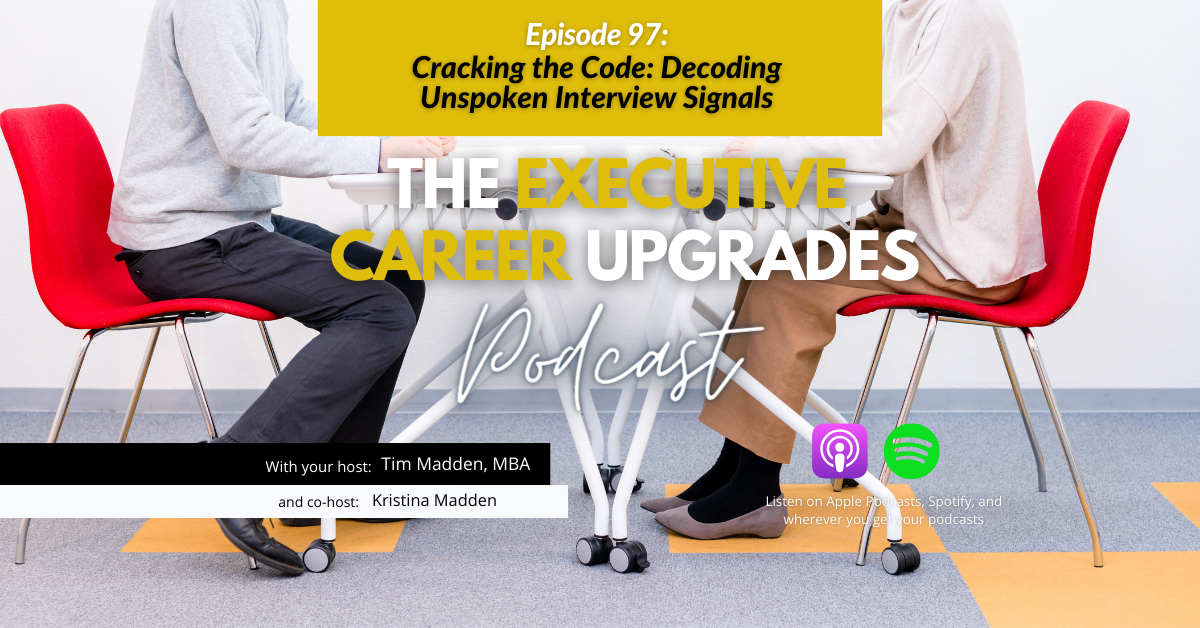 Missed out on Episode 97's captivating insights? No worries! The replay of "Cracking the Code: Decoding Unspoken Interview Signals" from the Executive Career Upgrades Podcast is now ready for your listening pleasure.
Curious about the intricate dance of unspoken interview cues? This episode has your answers. Join us as we discuss the hidden language of interviews and learn how to master this vital career art.
Tim Madden, the Co-Founder, and CEO of ECU, takes you on an exciting journey through the art of understanding nonverbal cues, crafting impactful questions, and delivering responses that can sway the interview game in your favor. Whether it's the quirk of an eyebrow or the tone of a question, Tim's got your back.
But that's not all—Tim spills the beans on reading motivations behind questions and adapting your communication style to leave interviewers impressed. Whether you're acing virtual or in-person interviews, you'll discover how to make an undeniable impact.
Join us for Episode 97's replay: "Cracking the Code: Decoding Unspoken Interview Signals." Get ready to elevate your interview skills and steer your career towards success, one unspoken signal at a time.
Unlock the door to your interview triumph—tune in and embrace the world of unspoken signals!
And, listen… if you're ready to position yourself to accelerate your career, we want to help. We offer a powerful support system of expert Career Coaches, former Headhunters, and Corporate Recruiting Leaders. Our program offers a PROVEN BLUEPRINT FOR CAREER CHANGE SUCCESS to help you land the job and money you know you deserve. Schedule your free Career Breakthrough Session today to get started.