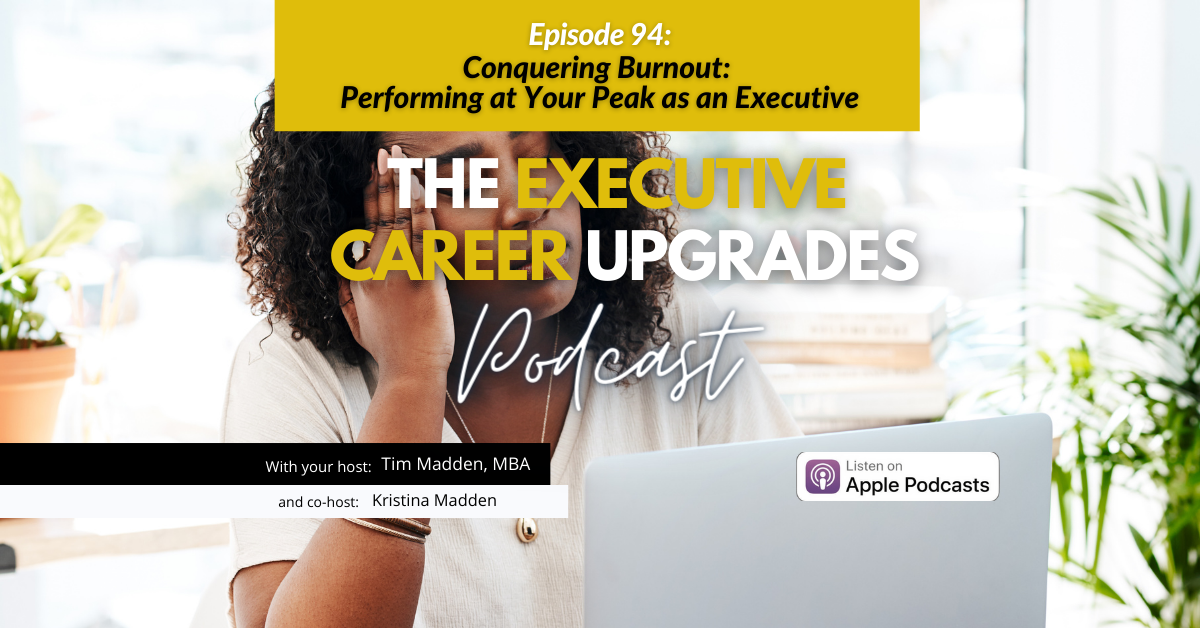 Missed our live event on "Conquering Burnout: Performing at Your Peak as an Executive"? Don't worry! The replay of Episode 94 from the Executive Career Upgrades Podcast is now available!
Join hosts Tim and Kristina Madden as they provide unwavering support to Directors, VPs, and Executives, helping them recognize and combat burnout's impact while fostering a leadership style that prioritizes self-care and drives results.
In this episode, you'll discover invaluable strategies and insights to identify early signs of burnout and develop proactive measures to overcome it. Learn the art of balancing ambition with self-care, creating a work environment that promotes well-being, and building resilience to thrive in the face of adversity.
Tune in to gain real-life experiences and practical advice that will empower you to perform at your peak without compromising your health and happiness.
Don't let burnout hinder your path to success! Take the first step towards an exceptional executive career by scheduling a complimentary career breakthrough session with one of our Executive Career Advisors today at: https://execupgrades.com/podcast/.
Catch the replay of "Conquering Burnout: Performing at Your Peak as an Executive" now and make your career soar to new heights!