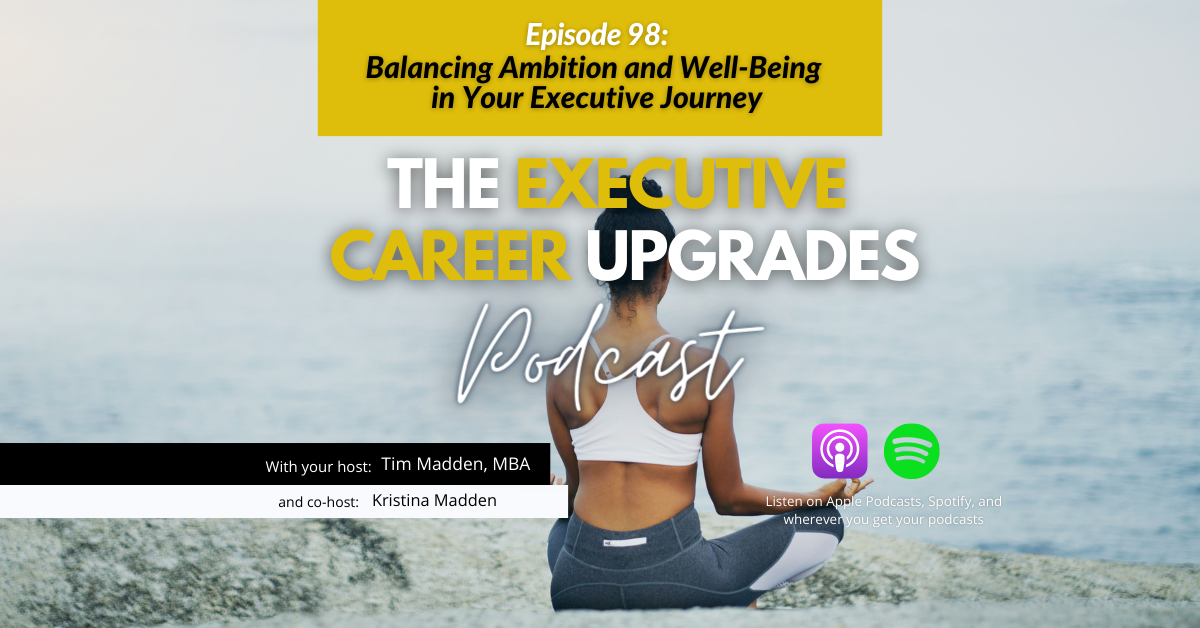 Did you miss out on the insightful episode discussing "Balancing Ambition and Well-Being in Your Executive Journey" on Episode 98 of the ECU Podcast? No worries – the replay is now at your fingertips!
Join hosts Tim and Kristina Madden as they unpack a topic that hits home for many of us: finding a balance between ambition and well-being in the world of executives. In this replay, you'll gain exclusive access to actionable insights that redefine how you approach success on your executive path.
Tim and Kristina, seasoned executives themselves, share their expertise in navigating the intricate balance between ambition and self-care. Discover how to propel your career forward without sacrificing your inner equilibrium. Whether you're climbing the corporate ladder or steering your own ship, this episode offers a toolkit of strategies to guide you toward a more harmonious and fulfilling executive journey.
Tune in to the replay of Episode 98 to:
Redefine your relationship with ambition and success.
Learn actionable strategies to safeguard your well-being on the executive path. Embrace a holistic approach to professional growth and personal fulfillment.
Elevate your executive career while nurturing your well-being – it's all within your grasp. Tune in now to chart your course toward a balanced and fulfilling executive journey!
But why stop there? Elevate your executive path by taking the next step. Schedule a personalized career breakthrough session with our seasoned Executive Career Advisors. Don't let burnout stand in the way of your success. Claim your complimentary session now at https://execupgrades.com/podcast/ and unlock the door to an extraordinary executive career journey.
Your success story begins with a choice – choose balance, choose growth, choose YOU.