If it's time for a career change and you have no idea where to start, who to get in contact with, or are getting lost among the job boards, you're not alone.
This is exactly where Pratibha was when she found out her job would be eliminated. She spent 3 months in her executive-level job search with no results and reached out to our team when she realized it would be a lot harder than imagined.
Pratibha is now a Cyber Security Executive. She obtained a new 6-figure role (over $200K) in a new industry in 90 days of working with our team at ECU!
You can check out her inspirational success story here by clicking the graphic below: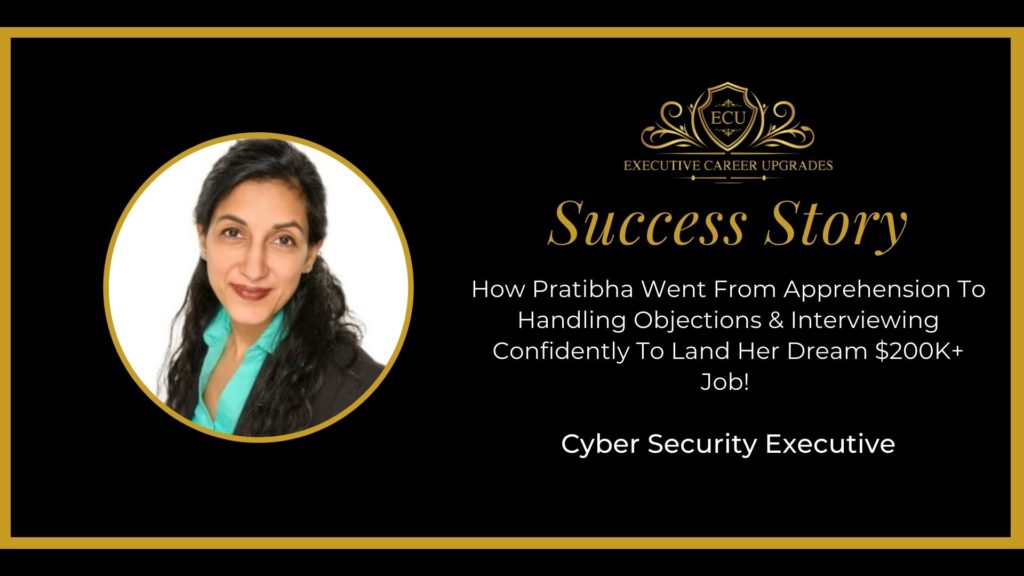 And, listen, if you want to know the exact tactics and strategies Pratibha used to land a job she LOVES, making over $200K+, we have an exclusive program at Executive Career Upgrades that has already helped hundreds of people achieve their dream jobs. We can teach you and guide you, step-by-step, through your very own career transformation… Let's talk.
Schedule your complimentary Career Breakthrough Session now to learn more and get started: https://go.oncehub.com/CareerBreakthroughSession